Our New Website Launched (added 24.02.17)

Our great new website launched today, we are delighted with our new improved website where we can share all our school news with our parents/carers and the wider community.

We will be adding lots of school news and photos regularly, so please keep coming back.

We hope you like our new website as much as we do, of course as always we value your feedback and welcome any suggestions for future updates.

Savvy Savers (added 24.02.17)

Our new Credit Union is up and running and available every Friday morning. We have lots of ' Savvy Savers' making deposits each week. Children can deposit any amount from 50p.
Breakfast Club (added 24.02.17)

Our Breakfast Club runs every morning from 8:15am. Breakfast costs 60p (30p if you are entitled to free school meals)
Upcoming Events (added 24.02.17)

Mary's Meals Backpack Appeal (added 06.03.17)
Our chosen charity for our Lenten Almsgiving will be the Back Pack Appeal. After donating used backpacks the children will be challenged with filling these with materials needed by children in Malawi. Each week the children will be asked to donate different items beginning with the back packs themselves! Please donate what you can. Second hand clothes, towels and backpacks greatly appreciated.

Week 1- Backpacks, summer clothes and flip flops.

Bring and Buy Sale
The fundraising group are organising a bring and buy sale for the 27th April. If you are planning a 'Spring Clean' over the next few weeks please remember we will be grateful of any donations you can make.


Welcome from the Head Teacher
Welcome from the Head Teacher

A warm welcome to St. Hilary's Primary School and Nursery Website.

I am privileged to be the Head Teacher of St. Hilary's Primary School which is a happy, nurturing and engaging learning environment serving the St. Leonards area of East Kilbride.

In St. Hilary's we are committed in all we do to ensuring that, through working in partnership as a community of faith and learning, every child will realise their full potential. The culture of our school is one which reflects a commitment to children's rights and positive relationships. Our school is inclusive where all are welcomed and valued. High quality learning and teaching experiences help to ensure our learners are motivated, successful, confident and responsible.

We believe education is a partnership between the school, our children, families and wider community. We hope that our website will further strengthen our partnership working and keep you up to date and well informed of events and everyday learning which happens in our school.

I look forward to working in partnership with you to enable your child to be all they can be.

Mrs Maureen Reid
Head Teacher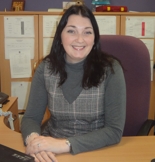 Mrs Maureen Reid
Head Teacher
St. Hilary's Primary School
High Common Road
St. Leonards
G74 2AX